mail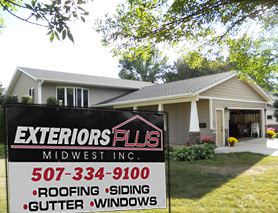 Our goal at Exteriors Plus Midwest Inc. is to provide our customers with a quality remodeling experience. We use only the finest materials installed with excellent craftsmanship.
The manufacturers of GAF/ELK products have certified Exteriors Plus Midwest as Authorized Installers. Our investment in the certification process exhibits our commitment to best industry practices. We pledge to serve our customers with skill, knowledge and the best product at competitive prices.
We meet all state regulations for licensing and insurance. Exteriors Plus Midwest Inc. is a licensed general contractor that takes great pride in helping our customers from start to finish, while developing a great working relationship with them.

Call us today for a no obligation FREE ESTIMATE. We are the affordable home improvement professionals. Exteriors Plus Midwest will install your choice of shingles, tiles, siding, windows and gutters to look beautiful and last a full product lifetime.
---
We are experienced and professional installers of roofing, metal-roofing, windows and siding. We're family-owned and local. Exteriors Plus Midwest has been the preferred home improvement company in the Metro, Southern Twin City suburbs, Lakeville, Northfield, Faribault and Owatonna since 2004.

Your home is your biggest investment – We add to its value.
Attention to detail
Supervised crews who arrive on time
Thorough clean-up
Licensed and insured
Free Estimates and Inspections
Insurance claims assistance
Affordable, competitive pricing
Quality products and competitive prices
Residential • Commercial • Town Homes • Apartments • Condominiums • Churches
---